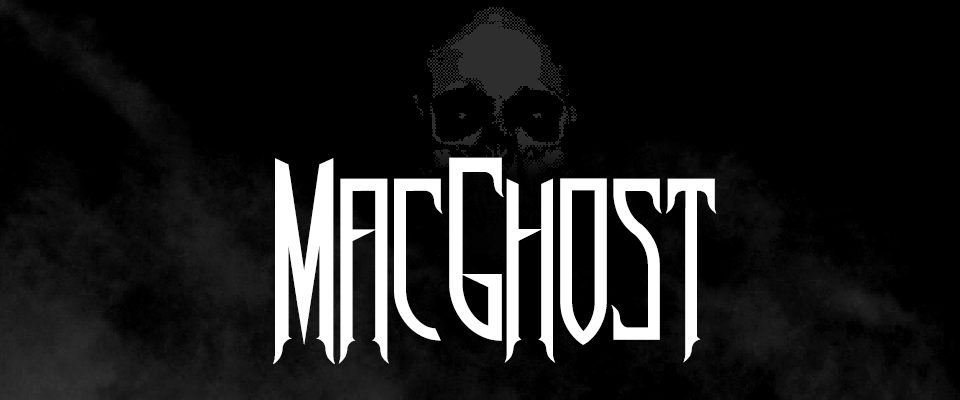 MacGhost
A downloadable ghost detector
A modern creation for retro Macintosh.

Detect and translate the supernatural!
What is MacGhost?
The purpose of MacGhost is to create a channel for ghosts and other paranormal entities to communicate with us. MacGhost will search for supernatural messages and translate them to English. It'll speak the messages using spooky 1980's speech synthesis!
Try it out on a real 80's Macintosh! It's creepy!

MacGhost is not a "fake ghost App". It is as real as you will allow it to be. I think you'll be impressed if you give it enough time and put a little of your own personal energy into the exchange. Ask the ghosts questions out loud and try to interpret their responses!

MacGhost is a free App designed for the Mini vMac emulator and retro Macintosh Plus computers (and compatibles like the Mac SE and Classic). It has been designed using the Mini vMac emulator and runs best under this environment. Within Mini vMac I recommend hitting Ctrl-M to magnify the screen, then hit Ctrl-S and select 'A' for 'All out' maximum speed. In the MacGhost App there is a check box for running in Mini vMac mode. Make sure to tick this, so it will run correctly.
Installation:
MacGhost can be booted up right from the floppy disk image. If you're running it on real hardware, it's best to copy it to your hard drive, otherwise it's really slow and bad.
MacGhost was written in a hacked version of HyperCard and I have set up this Mini vMac disk image to automatically launch it. Just drop the disk image on the Mini vMac window and it'll load all the way up! (you still gotta set up Mini vMac with a ROM file first)
Check out my Mini vMac Tutorial on YouTube!
If you're using real hardware, I HIGHLY recommend you COPY it to your hard drive, as the program will frequently read from the floppy disk which causes the App to run slowly. It's way faster and a much better experience if it's on your hard drive. To install it, make sure to copy the ENTIRE MacGhost folder. You will need the MacGhost application, the Data file, and the Home file. All three of these are required to be in the same directory for it to work. You'll also need Macintalk installed on your system. (It's on the disk)

Copy these to your Hard Drive. Put MacinTalk in your System Folder!
I have included both DSK (Mini vMac) and IMG (Disk Copy 4.2) disk images, as well as Stuffit 4.0.1 archives in both BinHex 4.0 and MacBinary II formats. Stuffit 4.0.1 can decompress both of these formats.
System Requirements:
Mini vMac will give you the best experience with MacGhost. For actual hardware, it supports Macintosh Plus, SE and Classic computers with 1MB of RAM and the Macintalk extension. (included)
It should run on any vintage Mac running System 6 or 7.0. Tested in System 6 and 7.0. It crashes on 7.5 and up!
Other Stuff:
This was a fun week long Halloween project for me to re-learn a little bit of HyperTalk. I haven't used HyperCard to program anything since I was a boy, so it was a lot of fun to dig in a little further than I was able to understand back then.
I've uploaded it here to share with you. The Mac doesn't get as much love as other retro systems, so I hope you enjoy!
I've got more retro Macintosh projects in the works! Not just small HyperCard projects, but also action/arcade games written in C. I hope you're excited!
Follow me here on Itch.io or subscribe to my insanely gruz YouTube channel to stay up to date on my new games!
MacGhost is free software. Feel free to distribute it to anyone you'd like! DO NOT SELL THIS SOFTWARE OR I'LL COME FOR YOU!
Happy ghost hunting!
| | |
| --- | --- |
| Status | Released |
| Release date | Oct 26, 2020 |
| Author | gruz |
| Genre | Simulation |
| Tags | 1-bit, apple, classic-mac, Ghosts, Horror, HyperCard, macintosh, mac-plus, Retro, vintage |
| Code license | GNU General Public License v2.0 (GPL) |
| Average session | A few minutes |
| Languages | English |
| Inputs | Mouse |
| Links | YouTube, Blog, Patreon |
Download
Click download now to get access to the following files:
MacGhost (Bootable DSK Image for Mini vMac).zip
597 kB
MacGhost (App and Macintalk Only - 800K DSK Image).zip
268 kB
MacGhost (App+MacinTalk).sit.bin
270 kB