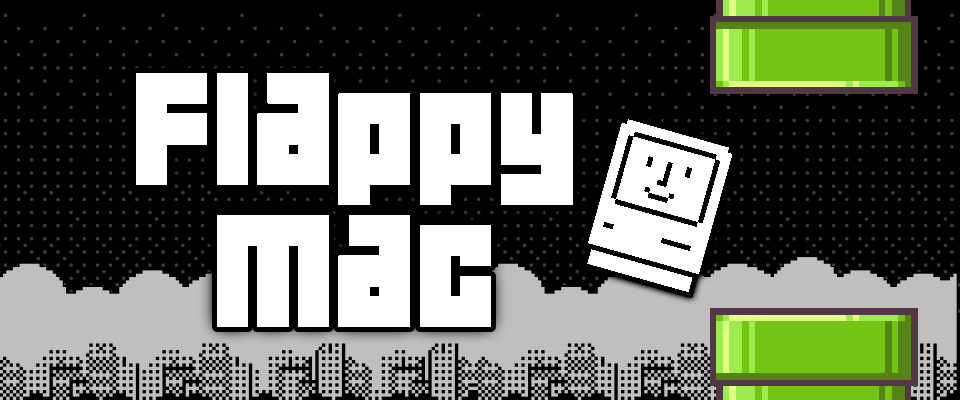 Flappy Mac
Introducing Flappy Mac!

A New Game for Vintage 68k Macs!
2-8-2022:
New version 1.1 released! This update includes an increased framerate mode for Macs with a 68020 or better. I have also tweaked the game to run more consistently on 68000 Macs.
See included readme for full list of updates.
What is Flappy Mac?
Flappy Mac is a new fast action arcade game written in C and designed for vintage 68k Macintosh computers. It supports both 1-bit and 8-bit graphics.
It's free to download and play!
This game features 10 unlockable characters, several scenarios, and a ton of fun sound effects! Can you score 100 points and become a master of Flappy Mac?
How to Play:
Click to Flap! Don't crash your Mac!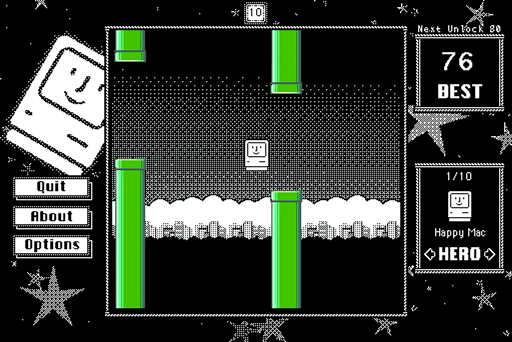 Smooth Sailing! - Flappy Mac Color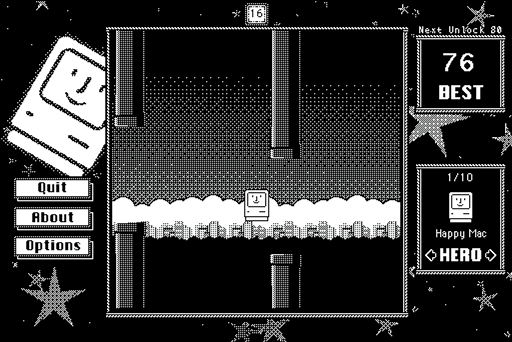 I crashed my Mac... - Flappy Mac Black & White
Recommended System Requirements:
Mini vMac or Mini vMac II variation (for color!) emulators. Tested on System 6.0.8, 7.1 and 7.5.x. I recommend using System 7.5.5. I have included a bootable disk image for emulators.
For a good time, set emulator speed to 'All out'. (Hold Ctrl-S then press A)
Check out my guide to preparing the Mini vMac emulator for games:
https://www.youtube.com/watch?v=0JPFFrELdlg


Real Hardware Requirements:
68020 or later. Ideally a Mac SE/30 or Quadra, but the LC or Mac II line of computers would be other good choices! It flies on my PPC Macs!
Minimum System Requirements:
Macintosh Plus, SE or Classic w/ 1MB RAM running System 6 or later. Make sure to uncheck the "Enhanced Framerate" setting in the options.
The sound is not compatible with some CPU upgrade cards.

Why did I make this?
This was a fun 2 week long project to learn about classic Macintosh programming. There's a lot that goes into the production of classic Macintosh apps, and I found it fun to learn how to put one together.
I grew up with the Mac and it is sad to see how very non-existent the software support is for these oldest Mac systems. Most other retro computer platforms still get new games - now it's the Mac's turn!

This game is not created or endorsed by Apple. It's just a free fan game for old computers. All featured characters are properties of their respective owners.
Download
Click download now to get access to the following files:
Flappy Mac 1.1 Bootable.dsk - Bootable Image for Mini vMac
2 MB
Flappy Mac 1.1.sit.bin - Stuffit File for Real Hardware
223 kB
Flappy Mac 1.0 Bootable.dsk - Bootable Image for Mini vMac
2 MB
Flappy Mac 1.0.sit.bin - Stuffit File for Real Hardware
223 kB